Kevin Kucko, PT, DPT, MA, ATC, Director, Licensed Physical Therapist, Certified Athletic Trainer, Dry Needling Certified
Kevin received his undergraduate degree in Athletic Training from the State University of New York at Cortland. Starting as a certified Athletic trainer he worked both in NFL as well as with college athletes focusing on accelerating the rehabilitation for injured athletes. In 1995 received his Masters Degree in physical therapy from Touro College, and in 2020 completed his Doctorate Degree from the University of Montana.
Since 1997 he has been the Director of Rehabilitation at various rehabilitation centers on the east coast, Applying his approach to adults and seniors has allowed his clients to reach their fullest potential. While in the Lake Norman area he completed several studies in reducing time lost to work Injuries, Ergonomics, Peripheral Neuropathy and has worked with many Dentists and Surgeons to effectively treat jaw pain and dysfunctions of the TMJ.
In 2007 Kevin began to lecture, teaching clinical advances to other therapists and medical professionals. He has presented at over 200 seminars in specialty areas of Manual Treatment of the Upper quarter, Conservative management of the TMJ, and Treatment of Peripheral neuropathy. He is currently developing a lower quarter course with a focus on sports performance.
Kevin opened K2-Sports Therapy and performance in 2011 providing physical therapy to the Lake Norman Community. Outside of work Kevin enjoys rock climbing, hiking and mountain biking.

---
Gwen VanRyen-Sink, PT, ATC, L-AT, Licensed Physical Therapist
Certified Athletic Trainer, Dry Needling Certified
Gwen graduated in 1991 from the University of Wisconsin-Madison. She started as a certified athletic trainer. Her experience includes National Teams such as the USA team Handball, USA Rugby, RCA Tennis Championships- Men's Tour, Outreach with several NASCAR and INDY car teams. She has focused her career on outpatient physical therapy and sports medicine with outreach into the community.
---
Joshua Malutan,
PT, DPT, CSCS
Joshua grew up in Chicago IL. In 2016 he received his undergraduate degree from the University of Illinois- Chicago Moving to Goodyear AZ in 2018 Joshua attended the doctorate program in Physical Therapy at Franklin Pierce University for Physical Therapy, graduating in 2021.
Since Graduation he has practiced in a variety of settings in the Phoenix area. With experience in inpatient facilities, outpatient facilities, and even home health. He has worked with patients in every phase of the rehab process. In April of 2022, he and his wife decided to move to the Charlotte area to be closer to family. This is what brought me to K2 Sports Therapy
In his spare time, Joshua enjoys golfing where he has been an avid golfer for over 10 years. He especially enjoys working with this population whenever he gets the chance, with a goal of helping them play injury free golf for as long as possible. He and his wife enjoy hiking, traveling and have recently picked up mountain biking. They are excited to explore North Carolina and all of its outdoor adventures.

---
Sonya Scott,
Office Manager
Sonya has worked with K2 Sports Therapy for two years, she moved from Tampa, FL to North Carolina in order to be closer to her three daughters. She is American Counsel Exercise Certified and has 10 years of experience in Group Fitness. She is currently studying Nutrition Consulting with American Association Nutrition Counsel with the hope of positively influencing patients health. Sonya is a "nutrition nerd" and those around her know that her world lights up when two little boys and one girl call her MiMi!
---
Brittany Sheehan, PTA

Brittany is originally from outside of Philadelphia, PA and came down to the Carolina's in 2013 to attend college at Limestone University. She graduated in 2017, earning her Bachelors of Science degree studying Biology. During her undergraduate work she was a student athlete participating as an NCAA Division 2 athlete on the women's lacrosse team. She then continued her studies at Central Piedmont Community College to become a licensed Physical Therapist Assistant. She enjoys working with all populations in therapy, from young athletes who may be working to return to sports to those who are hoping to get back to daily activities that they love without pain limiting them.
Brittany has also earned her 200 hour Registered Yoga Teacher Certification which she values to incorporate into therapy connecting the mind, breath, and body. In her free time, Brittany enjoys spending time outside and at the lake with her husband and dog, in addition to teaching and practicing yoga.
---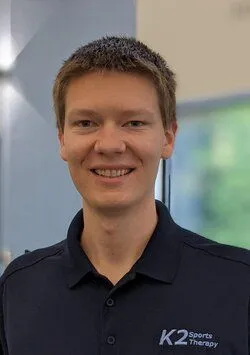 Michael Nielsen, DPT
Michael grew up in Minnesota just south of the Twin Cities in Savage MN. He grew up playing a variety of sports focusing on basketball and baseball which have always been a large passion of his. In 2016 he graduated from the University of Wisconsin-Stout with is Bachelor's degree in Physiology Health and Wellness. His passion for physical therapy stemmed from numerous injuries during sports, a fascination for understanding the body, and a desire to help others. He then moved to North Carolina to pursue my DPT at High Point University graduating in 2020. Since that time, he has worked in Outpatient Sports and Orthopedics.
He enjoys treating a variety of patients of all ages with expertise working with athletes, concussion patients, and those with vestibular dysfunction. He loves all things barbecue, college football, and family walks with his dog Maisy.

---
Zackery Parris, PTA

Zack was born and raised in eastern North Carolina. He grew up in the small town of Bailey before moving to Greensboro in 2012 to attend Guilford College. There he was a part of the Quaker football team, graduating in 2016 with a Bachelor of Science degree double majoring in Health Sciences and Exercises and Sports Science.
He continued his education in the PTA program at Guilford Technical Community College graduation in 2020. Zack focused his skills working in outpatient Sports and Orthopedics in Roanoke Rapids before joining our team at K2.
Zack currently has his L1 CrossFit certification and hopes to become a coach at a local gym in the near future. In his free time he enjoys working out in the CrossFit community, as well as participating in all outdoor activities including hiking, fishing, camping, and recreational sports.
---